Chim Hoo Fan + Michael Wong Double Birthday Fundraiser 2021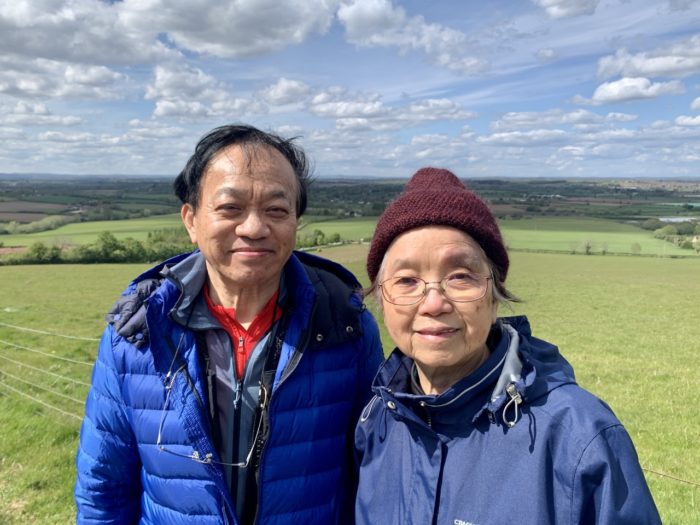 The dream is within reach – let's support New Sight again this year!
Dear Friends and Family,
On the occasion of both our birthdays in July 2021, we would once again like to raise funds for the charity New Sight Eye Care. Your generous support would be the best birthday gift to us both!
The Republic of Congo has a population of over 5 million, but it did not have resources for eye surgery, and many suffered from blindness and visual impairment needlessly. Seeing the need, our daughter Joyce and her husband Henri started the charity New Sight Eye Care in 2012, to provide accessible comprehensive eye care to help many families in Congo. For the past 9 years, tens of thousands of people in the Republic of Congo have received treatment. Looking forward, New Sight is training local health workers and educating communities on eye care, and building a comprehensive eye hospital in the town of Ouesso to reach more people in need.
It is not because Joyce and Henri are our family that we ask for your support, but because of New Sight's cause, which is "Restoring Sight, Changing Lives" – healing the blind to see again with their eyes and hearts. It is one among many missions worthy of your financial support. The past 9 years have yielded such touching results because of support of generous people from around the world who donated funds, supplies, and professional services, so that New Sight could continue to serve this neglected land and its people. During these pandemic times, New Sight has served Congo by donating COVID relief supplies and helped educate the community to prevent infection because it truly cares for their neighbours. Despite the challenges, we believe the dream of building an eye hospital is within reach, so we appeal to you to support New Sight to have a long-lasting impact.
Will you consider contributing to our campaign? Your thoughtful contribution will go far towards achieving New Sight's goals for 2021. Please refer to information on New Sight Eye Care and its Ouesso Eye Hospital Project to see to where your funds will go. Any donation will help, no donation is too small!
To support our campaign, please see the following ways:
For GBP donations and UK receipts, please go to below form. You can leave us a comment as well, we would love to hear from you!
For HKD donations and HK receipts, please go to this page.
For USD donations and US receipts, please visit New Sight's US donation page, and drop us an email that you've supported this fundraiser!
For donations from other countries, please go to below form and change the currency. Drop us a note as well!
Thank you in advance for your kind donations, we couldn't do this without generous family and friends like you!
Blessings,
Fan & Michael
Together, we've raised more than GBP£110.00 so far for this campaign in the UK!
___________
Sharon and Matthew Sung
Thinking of both of you.. Sending you our love! Praying for God's richest blessings be upon you over the year ahead. 💕
Bonnie Wong
Happy Birthday Auntie and Uncle! Love following the growth of New Sight Congo family! All the Best!
<< Back to News